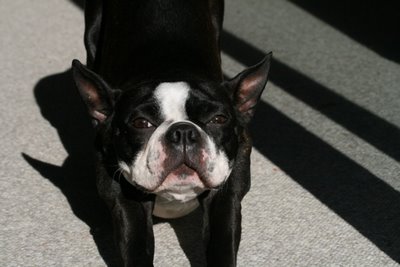 The first photo with the new camera. Can I have a Rebel XTi yell?
Christmas is a time for gifts, right? To celebrate my one-year blogaversary, coming up Dec. 16, I decided to get a real camera. (
Here follows an uncharacteristically techno-geeky post
). Not that my little pocket Olympus C-750 wasn't real, but I had explored about all I could do with it. And that was a lot. Witness the endless dawg and nature photos heretofore published, all save the New Mexico series taken with it. Taking Shila's Panasonic digital, with its barrel telephoto lens, to New Mexico was a turning point for me. Gripping the knurled ring on the lens, and deciding how much magnification I wanted, took me back to my SLR (single lens reflex) film camera days. I cut my teeth on a Canon AE-1, purchased in
harrrummmph
1978
. Having the camera take the picture when I asked it to, instead of five or ten seconds later, was another blast from the past. I got used to it, hooked on it, and when I came home my little point-and-shoot with its automatic (and painfully slow) telephoto, and its endless delay between shutterpress and shutter close, would never look or feel the same to me. It was like the movie Indecent Proposal. I had had a two-week affair with a camera of means and substance, and my old boyfriend just didn't move me any more.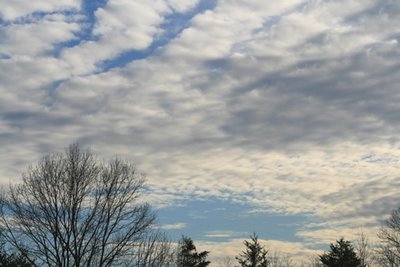 Skyscape with pines, at the end of our meadow. God, the clouds have been beautiful lately.


There was also the question of megapixels. Having shot at 4 mpxl for the past year, my images suffered upon cropping and blowup. Publishers ask that publishable photos be taken with an 8 mpxl camera (or greater). Publishers. Yes, I'm thinking about books, moreso since
Letters from Eden
appears to be taking wing. It's gotten some nice national exposure, and it's selling well. Oddly enough, the only measure I have is my own sales (now past 360 copies out of this little industrial cottage) and the Amazon sales rank, which has climbed from the 20,000 range to the 2-3,000 range. I compare it to the sales ranks of other bird and nature books, and I'm happy with its performance. If, indeed, the Amazon sales rank means anything at all. I grab the only data I can get. I try not to be obsessive about it, but as you are well aware, I am by nature obsessive. Otherwise, you wouldn't have a blog to read five mornings a week, would you?
Ahhh. Nice cup o' tea in the morning. Let's check the sales rank.
Well, that was an energetic bout of vacuuming. How's that sales rank?
Hi, kids! How was school! Want to hear about Mommy's sales rank? Let's check, shall we?


I do ramble. But I am thinking that some of this snapshotting I do every day might need to be publishable at some point. I spent about a week trolling the Web for camera and lens reviews, and, like a self-guided missile, I gravitated from thinking I wanted the Canon Powershot S3 IS with 12x zoom (a super-nice little 6 mpxl camera) to deciding I really and truly wanted a digital SLR. I was on the point of ordering the Powershot, then I went to Wal-Mart, which has just started stocking it, and fooled around with one. I knew from the moment I took it out of the box that it wasn't right for me. You read all this stuff about balance and feel in the hand, and it sounds pretty esoteric, but you do need to get your hands on the camera you're considering and see if it feels right to you. It's an instinctual thing. The Powershot felt like an upgrade, but not enough of one. With fixed lens and automatic zoom, and startlingly small and light plastic body, it just didn't feel right for me. Too durn many little buttons all crowded together, and where was that big comforting barrel lens?
My mentor in all this has been nature writer and photographer Lillian Stokes, who took a great deal of time to explain the difference between a point-and-shoot with fixed lens (which the Olympus and the Canon Powershots are) and a digital SLR (which can accept any Canon lens you wish to put on it). She made suggestions, gently steering me toward a higher mpxl camera with interchangeable lenses. I have always been impressed, nay, blown away, by the photography on her
blog.
So it wasn't hard to take her advice.
It was unmitigated envy of the images Lillian captures that led Bill to purchase his Canon EOS 30D, with fixed, image-stabilized 400 mm. lens. I knew I couldn't handle a camera that large, with a honkin' long lens I'd need a llama to carry. I wanted a compromise: portability with big megapixels and zoom capability, plus image stabilization because all my shots would be handheld. Finally, I settled on the Canon EOS Digital Rebel XTi, a medium-sized 10.1 mpxl beast.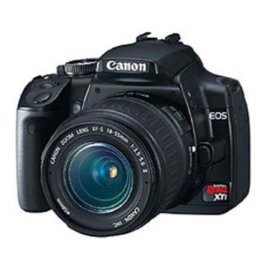 I ordered the body only, because the reviews all said that the little "kit" lens the camera comes with (and is pictured with above) isn't worth the powder to blow it up. I then purchased a Canon image-stabilized 70-300 telephoto zoom lens. Big chunk of glass, with a spinning glass gyroscope inside that somehow halts hand tremor and fixes a sharp image. How could I live without it?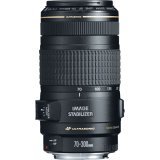 I'm in deep. I reasoned that Bill and I could trade lenses if we both had Canon digital SLR's. So if I felt a sudden urge to shoot bird pictures at 600 mm magnification, I could hijack his lens (with extender, the 400mm achieves 600 mm magnification) and tripod and fire away. And he could take my smaller lens for a ramble. It seemed to make sense. Neither of us shows any sign of stopping our snowballing photography habit. Just another thing the blogs have given us.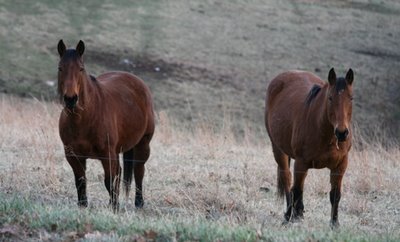 A pair of horses wonders why I'm clicking at them. This telephoto is an absolutely terrific lens for semi-distant animals and birds.
I got the camera yesterday. I've been firing away. The first thing I noticed was that I couldn't focus on anything closer than five feet away with the telephoto zoomed down to its lowest setting at 70 mm. Whoops. That's still a whole lot of magnification, and it rules out anything resembling macro shots. What about all those piles of dung and butterflies and orchids and dead leaves and mushrooms I like to shoot?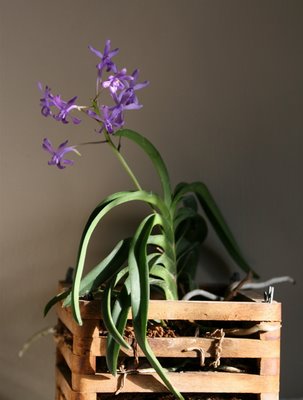 This is as close as I can get to my orchids, waaah! My sweet little blue Vanda, blooming for the second time this year. Fragrant, too! A very nice picture, but I long to get closer.
What about those crazy wide-angle Chet tableaux with him and the treed cat in the same frame? Can't get those at 70 mm. So today I was back on Amazon.com, trolling for a lens that would act a bit more like the all-purpose, handy-dandy point and shoot wide angle lens I was used to. Settled on the Canon EF image-stabilized EF 28-135 mm. lens, which will let me focus at 15", and is recommended for landscapes and closeups. Would you believe this little unit weighs two pounds?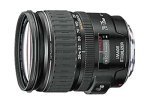 Ch-ching. I do love the 70-300 zoom, though; I took some bitchin' photos of Chet racing around the yard today. Froze him in his tracks, I did, smile intact.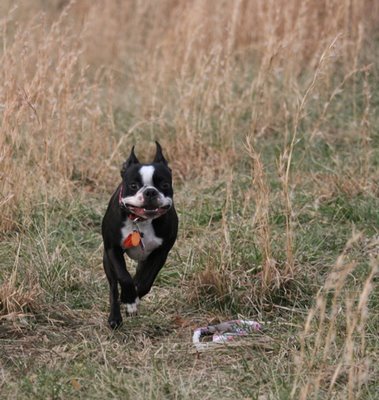 (Susan: Note the Heave-a-Beaver in the grass. He keeps taking it along on our walks).
And if I could bear to leave the little brindle darling home, I could probably get some really nice deer and turkey photos. Haven't even begun to hammer away at the tame birds around the feeders. Bluebirds? Oh yeah. I'll be shooting bluebirds. This camera and lens combo is Sweet and Hot.
The woods was so still this afternoon that I could smell my new camera, hanging from my shoulder. I could hear its little internal focusing motor; I could hear the image stabilizers canceling out my hand tremor. Sharp as a tack, responsive, lightning-fast, and it smells good too. I can't believe the pictures I'm getting, as new as I am at it. What a cool machine. It feels good to have it, and I get a little heart flip every time I pick it up. It must be love.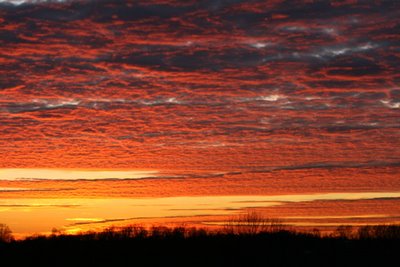 Image stabilization or no, I got a much sharper picture when I rested my elbows on the tower wall. Sunset last night, from towertop at Indigo Hill.